ONE SOLUTION
FOR COLLEGE SEXUAL HEALTH PROMOTION PROGRAMS
PREVENT UNPLANNED PREGNANCIES, STI'S AND SEXUAL VIOLENCE IN COLLEGE
While other programs address a single issue like sexual assault prevention, Media Aware is the only comprehensive, evidence-based, online sexual health promotion program designed specifically for college students.
The second edition of Media Aware published in 2022 includes updated media examples and medical changes to ensure content reflects current medical guidance.
THE PROBLEM: YOUR STUDENTS' LIVES ARE COMPLICATED.
2/3rds of all teen pregnancies occur
among 18- and 19-year-olds.

1 in 6 college students have been sexually assaulted.

30% of students report very difficult intimate relationship problems in the past year.
Yet, only 20 states require public high schools to teach medically accurate sex education. So, where do young adults get most of their information about sex?
Popular media fills many gaps in knowledge and influences perceptions of what is normal in romantic and sexual relationships.
These issues impact your students' well-being as well as their performance in the classroom.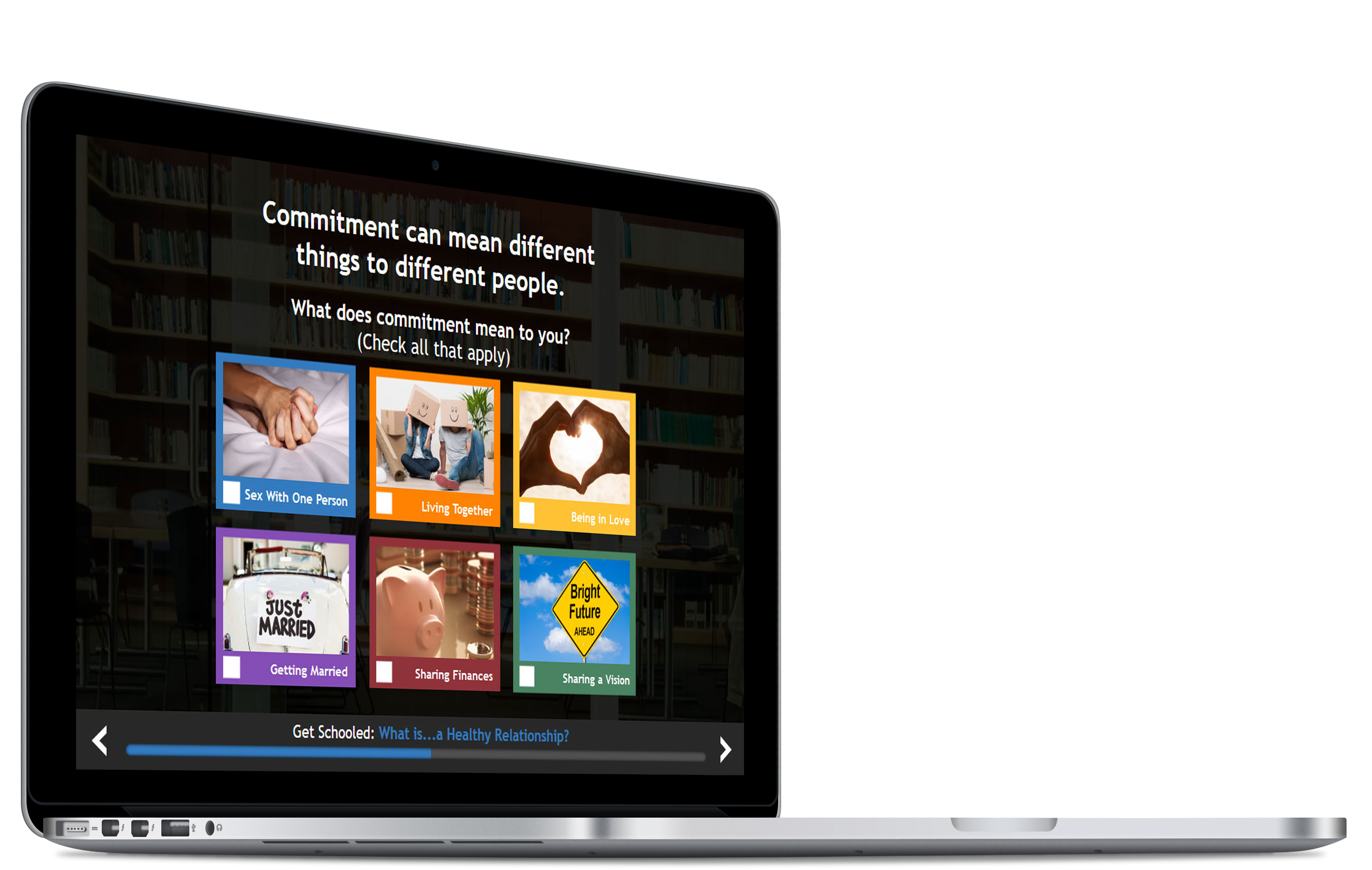 Since Media Aware is a standardized web-based program, you can be confident that all your students are receiving the same, medically accurate, inclusive, and up-to-date sexual health information.
THE SOLUTION
Use interactive, online learning to provide your students with standardized, comprehensive, and engaging sexual health education to prevent two key obstacles to college success: unintended pregnancy and sexual assault.
HOW IT WORKS
Perhaps the most unique aspect of Media Aware is that it utilizes media literacy education to engage students by harnessing their interest in the popular media. Media Aware seeks to deepen students' understanding of the influence media has on their decisions and helps to develop their critical thinking skills related to media, sexual health, and relationship health.
Media Aware is convenient for students as it is accessed online and is completed on their own time, at their own pace.
Sexual assault and consent

Alcohol/substance use and risky sexual activity

STI prevention and testing
Stalking, dating violence, and abusive relationships

Effective communication with romantic partners and health professionals

Media portrayals of romantic relationships

Present-day media examples, updated in 2022
MEDIA AWARE DOES THIS WITH THE USE OF:
Videos of peers discussing sexual health
and media topics
Medically-accurate
information
Skills practice and quiz questions with immediate feedback
Popular media examples
(e.g., songs and song lyrics; clips from TV and film; advertisements)
CHECK OUT THIS VIDEO FROM OUR PROGRAM
The interactive nature of the program also allows for personalization. Students create a profile, including setting specific personal, educational, and health-related goals. This was designed to increase engagement and help students apply the skills they learn in Media Aware to real world situations.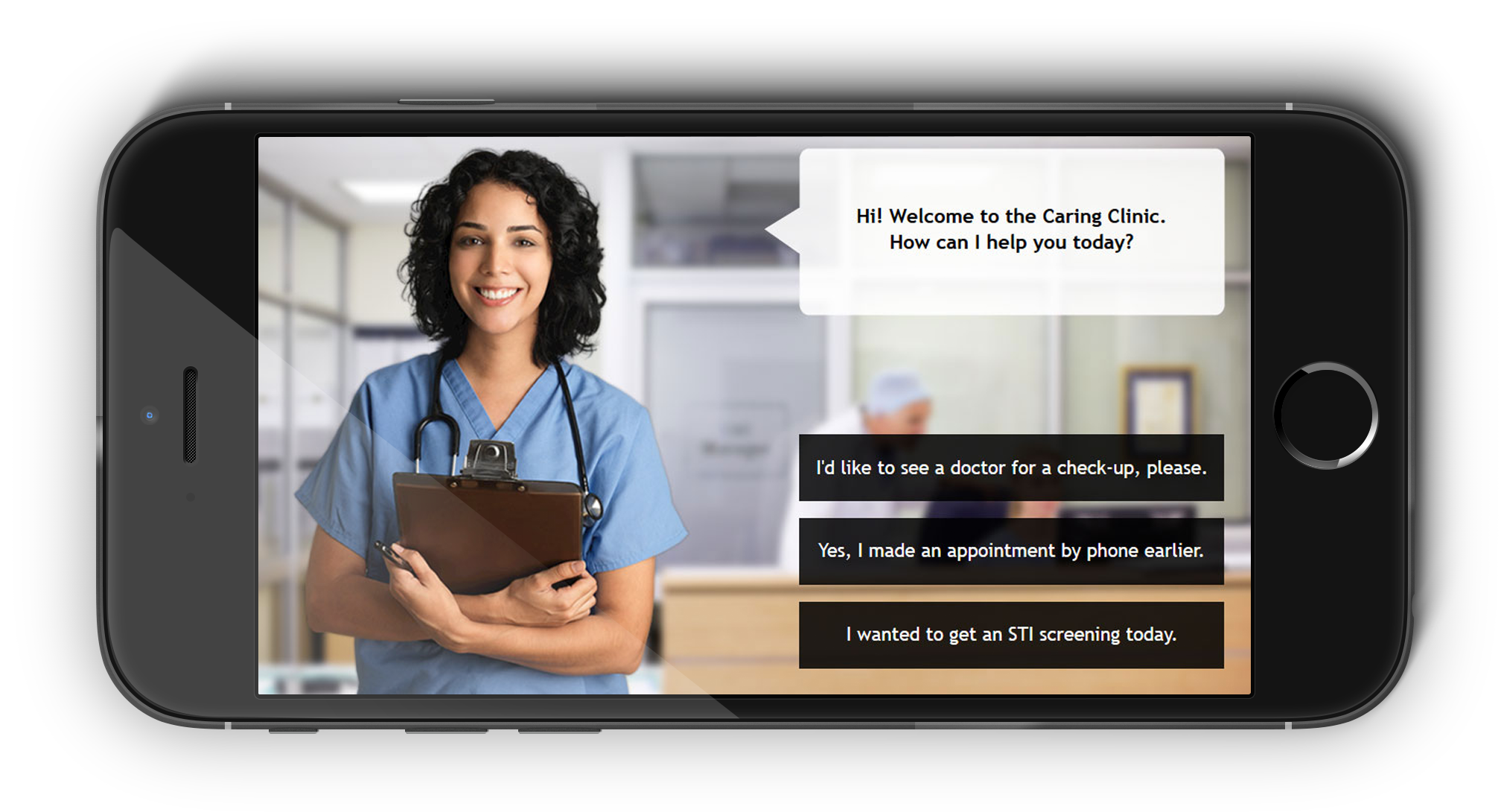 How long is the program?
Approximately 1 to 2 hours – but students do not have to complete the program at one time.
What is included?
Students will receive a one-year unlimited subscription to access the interactive, self-paced, web-based program. They can view the program on laptops and tablets.
How was it developed?
Media Aware was developed by researchers with expertise in media influence, communication, and adolescent sexual health based on pilot studies, expert and youth feedback, evidence-based research, and a rigorous evaluation.
How do I know if students completed the program?
Administrators can monitor student completion of the program, as well as download completion data for reporting purposes to key stakeholders.
Does it work?
Yes! A randomized, controlled study of the program has been conducted. For details on outcomes, see the Research Page.
How is the program delivered?
Once your payment has been processed, you will receive an email with a link and login information to access the online program. This is also where you will upload students' email addresses or create anonymous accounts so that you can give them access to the program. Students can complete the program when they want, at their own pace, as well as pause to continue later–whatever fits their schedule!
| Courses | Prices |
| --- | --- |
| For 1-9 participants | $25/person |
| For 10 or more participants | $10/person |
| For quotes for large numbers of users | Contact us –info@irtinc.us |